A little sexting can go a long way. Everyone gets a little rush when a sweet "can't stop thinking about you" message pops up on their phone, but why just stop at sweet nothings? These days, couples and friends with benefits the world over utilize technology to ramp up sexy conversations that later transition into real life steamy hookups.
Sexting is now a crucial component of any relationship dynamic, so it pays to know your way around this little virtual world. Whether you want to impress someone new or spice things up with your special someone, we're going to show you some real life sexting screenshots to help improve your sexting game.
The Anticipation Sext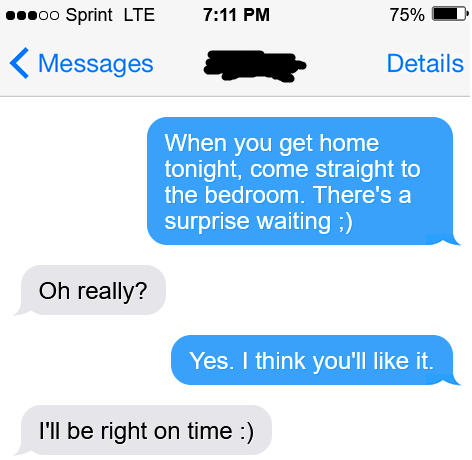 One of the most effective ways to rouse a person up is by planting a seed of anticipation. After all, the more you build something up, the better the end result. Letting your boyfriend or girlfriend know that they're in for the night of their lives will instantly create a spark that'll lead to amazing sex later that night.
The Memory Sext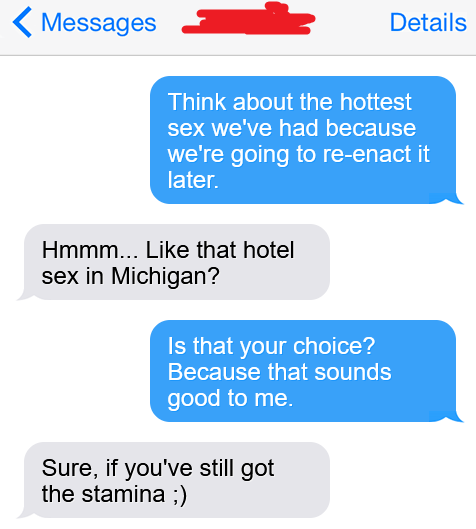 Using real life memories as the basis for your sexy messages adds a layer of realism. If you draw on past experiences, this will bring feelings from the time up to the surface. It's a real easy to way to get the juices flowing and the nerve endings tingling. Of course, memory sexting only works with guys or girls you've had sex with in the past.
The Downright Dirty Message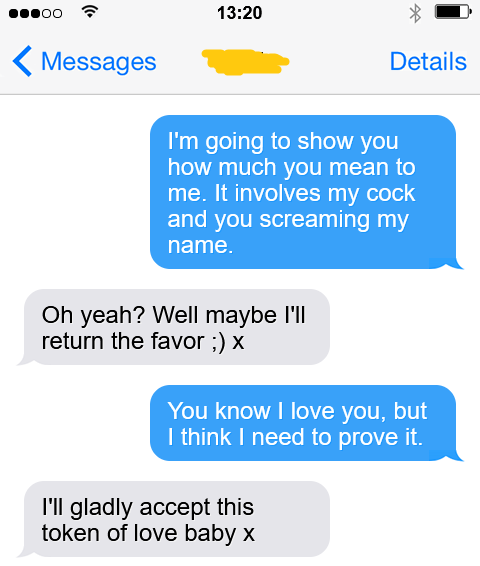 Sometimes you just need to get right down to business. If you want to get your message across with minimal conversation, a downright filthy text like the one above will tell your partner you're ready to get wild. And if you really want to add another layer of dirtiness to the proceedings, messages like the one above work well alongside naughty pictures too.
The Domination Sext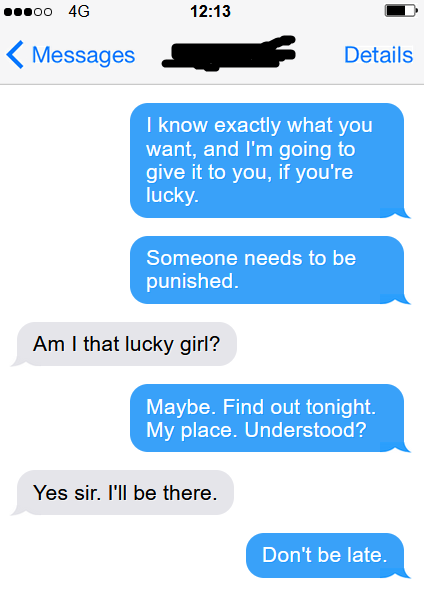 Domination sexting lets your baby know that you're in charge. Despite what they might say, every man and woman likes being told what to do once in a while. Just make sure you don't go in too hard, because the last thing you want is to scare your partner away by coming across as too aggressive. Keep it light, kinky and hot. We guarantee they'll love it.
The Kinky Sext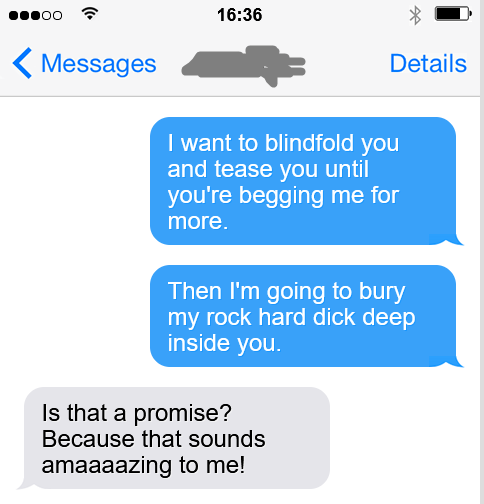 You probably have your own ideas of what 'kink actually involves, but pretty much any taboo topic can translate into kinky fun. BDSM play, handcuffs, birth control topics, food, clothing, bodily fluids. As you can see in the above sexting example, our sexy couple are discussing the idea of restraints as part of their sex games. If you or your partner are inexperienced kinksters, then this is a safe way to add some spice to your bedroom activities.
The "I Love You" Sext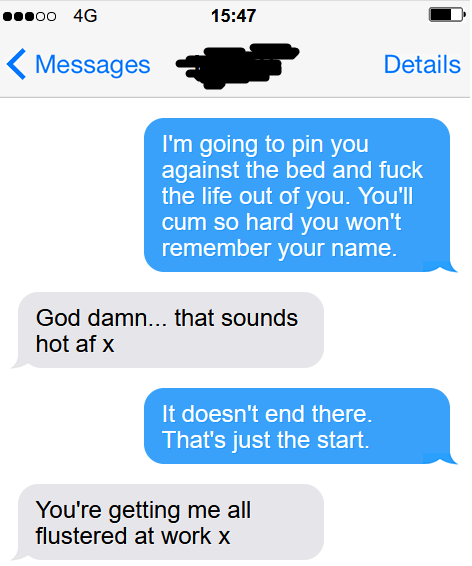 Okay, so you're totally in love with your girl, and you want to express it in the hottest way possible. Sexting allows you to show your total devotion to your special someone whilst simultaneously letting them know you want to fuck them senseless. The two are not mutually exclusive, as the above sexting conversation shows.
The Fantasy Sext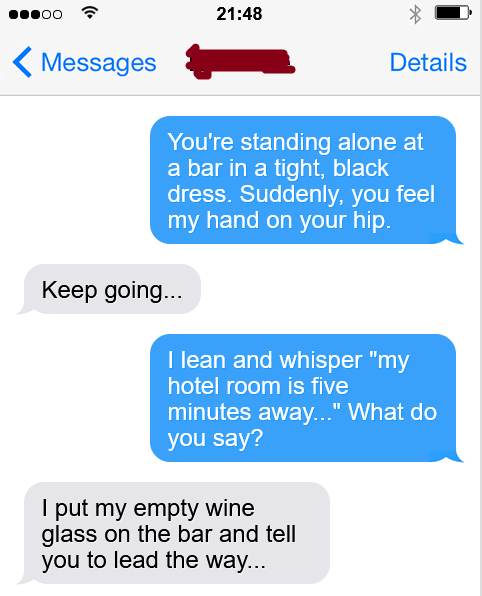 One of the beauties of sexting is that you're not limited by physical boundaries. Your naughty text conversation can traverse the entire spectrum of sexual possibilities. It doesn't matter if you want to act out a steamy taboo fantasy or roleplay a doctor/patient scenario. Sexting lets you go to lengths that regular bed room sex doesn't.
The Virtual Foreplay Sext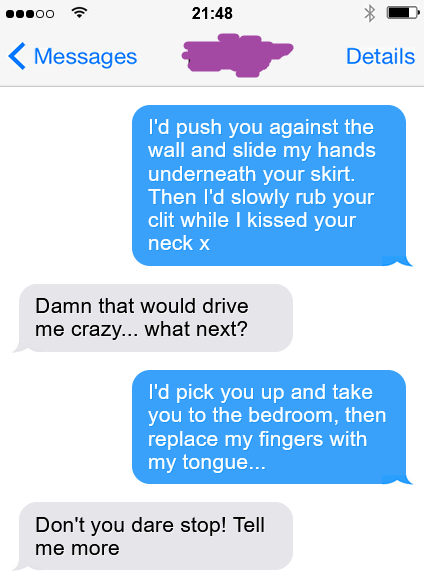 Sexting should mimick real life sex as closely as possible, and most people begin their bouts of intimacy with foreplay. What's the first place you touch on your partner's body? Do you make out, fondle their ass, thrust your dick against their thigh? However you begin your bedroom sessions, use it as inspiration to kickstart your sexting conversation.
The Submissive Sext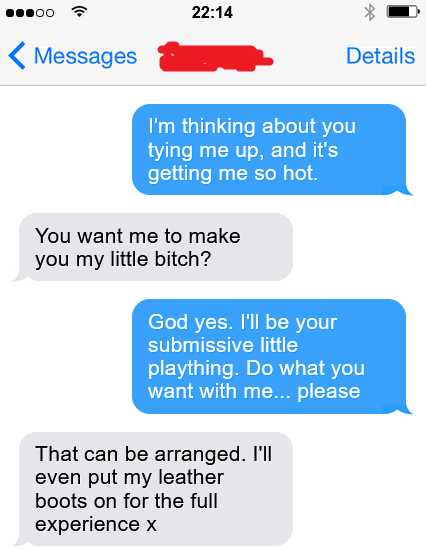 Want your partner or friend with benefits to have their wicked way with you? Are you willing to lay back and treat them to unrestricted access to your body? The submissive text lets them imagine all of the filthy things they can do to you without limitations. You're their submissive fucktoy and they can start exploring you any which way they like.
The Romantic Sext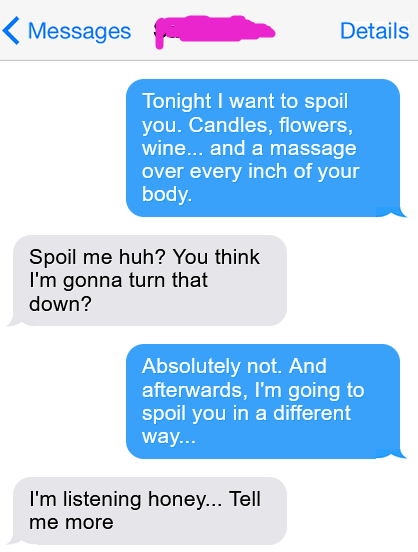 Sexting doesn't always have to involve pure filth. The point of sexting is supposed to bring people closer together, so it's a good idea to add a little romance to your sexy conversations on occasion. Whether it's worshipping your partner's body or sharing strawberries in bed, sexting lets you and your lover explore the boundaries of intimacy.
The Suggestive Picture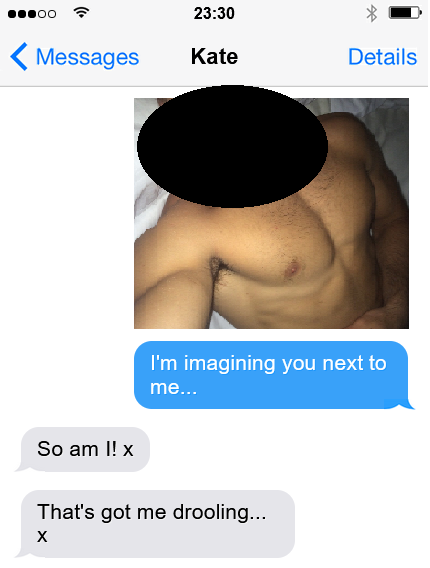 The quickest way to elevate your sexting to the next level? Send them nudes. Sometimes you need a visual aid to go along with your sexy conversations, and nude photos are the perfect accompaniment. As you'll see in the above example, you don't want to go too hard with your saucy pics. Keep it light and teasy at first, then go in harder when the convo ramps up.
The Innocent Message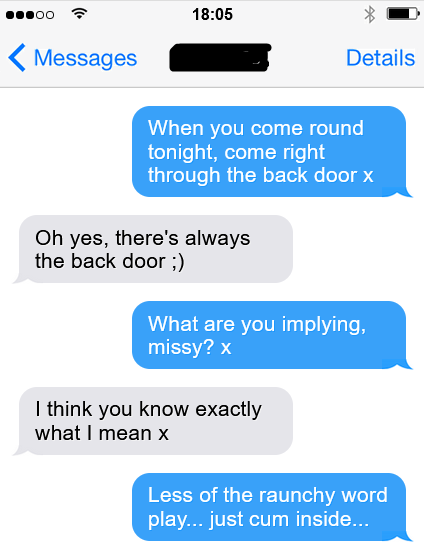 Want to rile your partner up and get them gagging for your penis? Sometimes, it's fun to play the innocent card and pretend that you're not going to give them what they want. Obviously, they'll know exactly what you're doing, you can bet that it'll get them hotter than any filthy message would. Don't forget to throw in a few halo emojis for good measure too.
The Misbehaving Sexting Message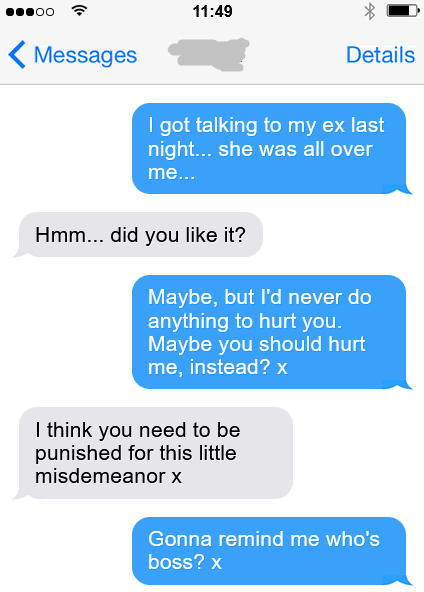 Some love it, some hate it, but jealousy can be a very powerful motivator in the sexting game. If your guy or girl gets off on those kind of emotions, a little taunt of bad behavior can really get their heart racing. Maybe you were tempted to kiss another man or woman at the club tonight. Maybe your ex asked you out on a date. Use it as fuel for a hot sexting conversation.
The "Get Here Now" Message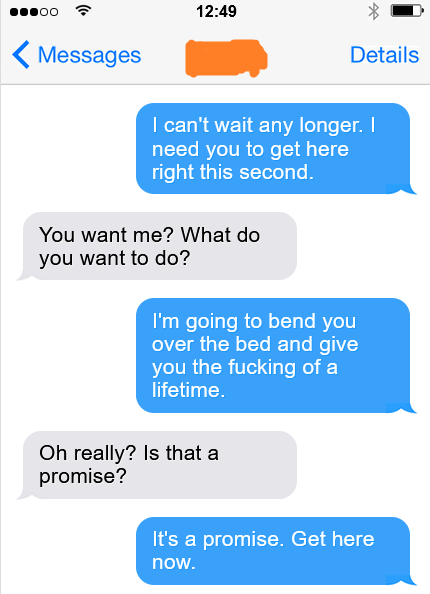 If there's one great thing the Internet has given us, it's the ability to discreetly message anyone at any time of the day. If you're suddenly craving pleasure at one in the morning, there's nothing stopping you messaging interested partners for some midnight fun. The "Get Here Now" message is a way of summoning your lover to your doorstep right there and then.